Iowa Great Lakes area is often considered a cultural center for artists and art enthusiasts. Not only can you shop for art throughout the region, but a handful of local establishments also offer the opportunity to find your inner artist and create your own masterpiece.
Art on 16th
Art on 16th tags itself as "your creative laboratory." Hank Hall – artist, teacher, and co-owner – helps students of all ages turn up their creativity. After 34 years of teaching art in Iowa schools, he now teaches classes year round in clay, drawing, painting, and sculpture at Art on 16th.
Art on 16th is located in Olde Town Spirit Lake in the heart of the Iowa Great Lakes – on 16th Street across from the post office and next door to Wilder Thymes.
More information: http://www.hankhallarton16th.com
Creative Spirits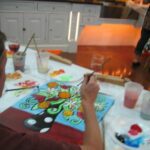 Creative Spirits brings the newest, trendiest entertainment to the Lakes area offering paint and sip events. Local artists guide you through the step by step process of recreating one of our original works of art. By the end of the class, you will have had a fabulous time and be able to take home a work of art painted by you. Public events are featured on the online calendar and are held at locations throughout the lakes area. Private events can also be scheduled.
More information: http://www.creativespiritsokoboji.com/
Kurio Kastle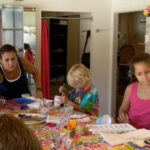 Kurio Kastle Pottery Painting Palace is a great place for kids and families to get creative painting ceramics together. No reservations required. Kurio Kastle features over 200 different ceramic pieces to choose from including vases, mugs, plates, boxes, banks, picture frames, figurines and more! Once you've picked out your piece, choose from over 20 different non-toxic colors to paint your masterpiece. Private events can also be scheduled. 
Kurio Kastle is located at 169 Okoboji Grove Road (Highway 71) in Arnolds Park.
More information: http://www.kuriokastle.com
Pearson Lakes Art Center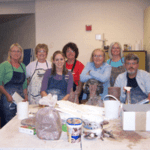 The variety of opportunities at the Pearson Lakes Art Center guarantees a place for you to enjoy, grow, learn and create. This summer's featured adult classes include "Watercolor Painting with a Purpose" with Raleigh Kinney and "China Painting: New Directions" with Paul Lewing. Thursday evenings also feature an open studio and a painters' group. The art center also has a full schedule of summer classes for children ages 3 and up.
The Pearson Lakes Art Center is located 2201 Highway 71 North in Okoboji, Iowa.
More information: http://www.lakesart.org