Supporters of Earth Day and the Dickinson County Nature Center were treated with a special Earth Day event this year as actress and playwright Kaiulani Lee performed her one woman play "A Sense of Wonder" Saturday evening, April 14 at the Pearson Lakes Art Center.
The show was sponsored by the Maser Family Foundation, Wildwood Nature Preserve – Al and Delores Maser, Pearson Lakes Art Center, Lakes Community Theatre, Northwest Wealth Management – Lance B. Evans, the Conservation Foundation of Dickinson County and the Dickinson County Conservation Board.
Kaiulani Lee created the play based on the journals and letters of Rachel Carson, who has been called "the patron Saint of the environmental movement." Carson is best known for her book "Silent Spring" which alerted the world to the dangers of chemical pesticides and launched our modern environmental movement.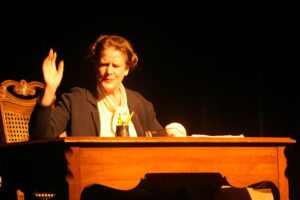 "I wrote the play but 97% of it is her words," said Lee in a brief question and answer period following the show. Lee said she started writing the play when her husband changed careers and started coming home with haunting stories about environmental issues. "All of the sudden, I thought taking care of my own family wasn't enough… Knowing what I knew and feeling what I felt… I felt it would be a loss not to do more."
Lee has been touring the U.S. for over 20 years performing the play at over 100 universities, high schools, the Smithsonian Institute, the Albert Schweitzer Conference, the Sierra club Centennial and the Department of the Interior's 150th Anniversary Celebreation.
At the Pearson Lakes Art Center on Saturday, Lee beautifully embodied her character of Rachel Carson, illustrating the passion both she and Carson share for the natural world. A light rain pattering on the roof of the theater created perfect harmony for the recording of insect voices that made up the overture for the show.
Lee walked the audience through two scenes – one in her seaside cabin in Maine and a second in Carson's year-round home in Pennsylvania, taking the audience through the time in Carson's life right after she had completed the book "Silent Spring." We watched as Carson dealt with the fame, criticism and controversy that followed as well as her own concealed battle with cancer. Lee beautifully delivered Carson's message to the captivated audience at the art center, leaving many with Carson's quotable message resounding long after the evening had ended.
Following are a handful of notable nature quotes from Rachel Carson:
"If I had influence with the good fairy who is supposed to preside over the christening of all children, I should ask that her gift to each child in the world be a sense of wonder so indestructible that it would last throughout life."
"If a child is to keep alive his inborn sense of wonder, he needs the companionship of at least one adult who can share it, rediscovering with him the joy, excitement and mystery of the world we live in."
"To stand at the edge of the sea, to sense the ebb and flow of the tides, to feel the breath of a mist moving over a great salt marsh, to watch the flight of shore birds that have swept up and down the surf lines of the continents for untold thousands of year, to see the running of the old eels and the young shad to the sea, is to have knowledge of things that are as nearly eternal as any earthly life can be."
"I believe natural beauty has a necessary place in the spiritual development of any individual or any society. I believe that whenever we destroy beauty, or whenever we substitute something man-made and artificial for a natural feature of the earth, we have retarded some part of man's spiritual growth."
Earth Day officially falls on April 22 this year. To learn more about how you can celebrate Earth Day, visit http://www.earthday.org/2012